bobwp.com
Make Your Category Archive Page Stand Out with a Genesis Child Theme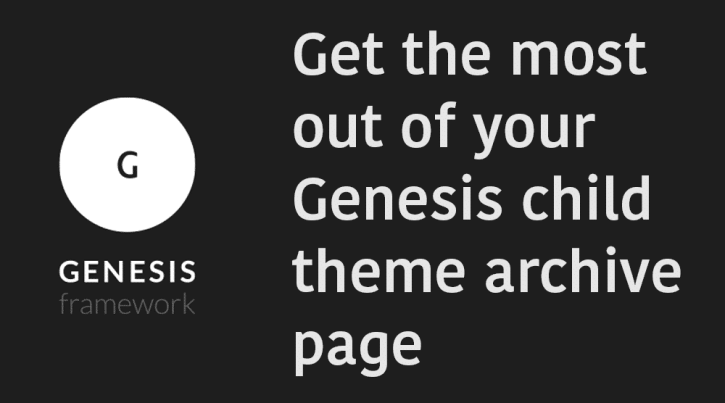 Now this isn't some earth-shattering discovery for many people, but if you are using a Genesis child theme, consider what you can do to up the game with your category archive pages.
The Standard Category Archive Page
Your blog. Yes, that is one of them in a sense. Your blog archive page is that blog page you have either on your homepage or somewhere within your site. A list of your posts. That's it.
Now some of you may have chosen to create category archive pages and linked to those from your navigation bar, your sidebar or in some other widget area. You may have a photography site and you have all your posts archived into three categories: Landscape, Cityscape and Architectural.
But when someone clicks on that link what about giving them a bit more info on what they can expect in the posts within that category. This may not be the solution for every site with category archives, but do think it through.
If we were to look at the blog archive page, it might look something like this.
Now if we were to click on one of my categories, that default archive page for the child theme I am using, would look like this. One thing to note is that I don't have my archive pages set with the sidebar in my Genesis child theme.
Now let's look at what a category archive page really looks like on my site here. This is a screenshot and at the top you will see a short description.
And if you click on the archive category page for one of my podcasts, you are going to see this. Not only is there a description, but a graphic as well and the logo for our sponsor.
Good for Readers. Good for SEO.
So why do this? It's pretty obvious to me. First it has to be good for SEO and secondly, it helps you readers to know what that category archive is about. What they can expect.
Now every theme has this option one way or another. Once you have created a category, you simply go in and edit it. This is how it may look on most themes. Of course I cannot say for sure on all of them, but this is the default Twenty Seven Theme.
If you do want images, links or even any type styles, you would need to use HTML in the description.
And if, where and how it is displayed will depend on your theme.
But if you are using a Genesis Child theme, you are going to find this when you click on a category. It gives you the option to add both a description and the category archive settings with the full editor window to make it even easier. The latter being what you would see on the frontend of your site.
You also get the Genesis option for your themes layouts as well for the archive page.
And if you are using Yoast SEO plugin, you can set the search engine optimization for your categories as well, which I highly recommend.
So if you are using a Genesis child theme and not taking advantage of this option, well, give it some thought for both the search engines and your readers. And to give you a broader concept of the power of these category archives, check this post out: How to Easily Add Two Blogs to a Single WordPress Site.
Via https://bobwp.com/make-category-archive-page-stand-genesis-child-theme/